Our Work
Corona Plastic Fishing Tournament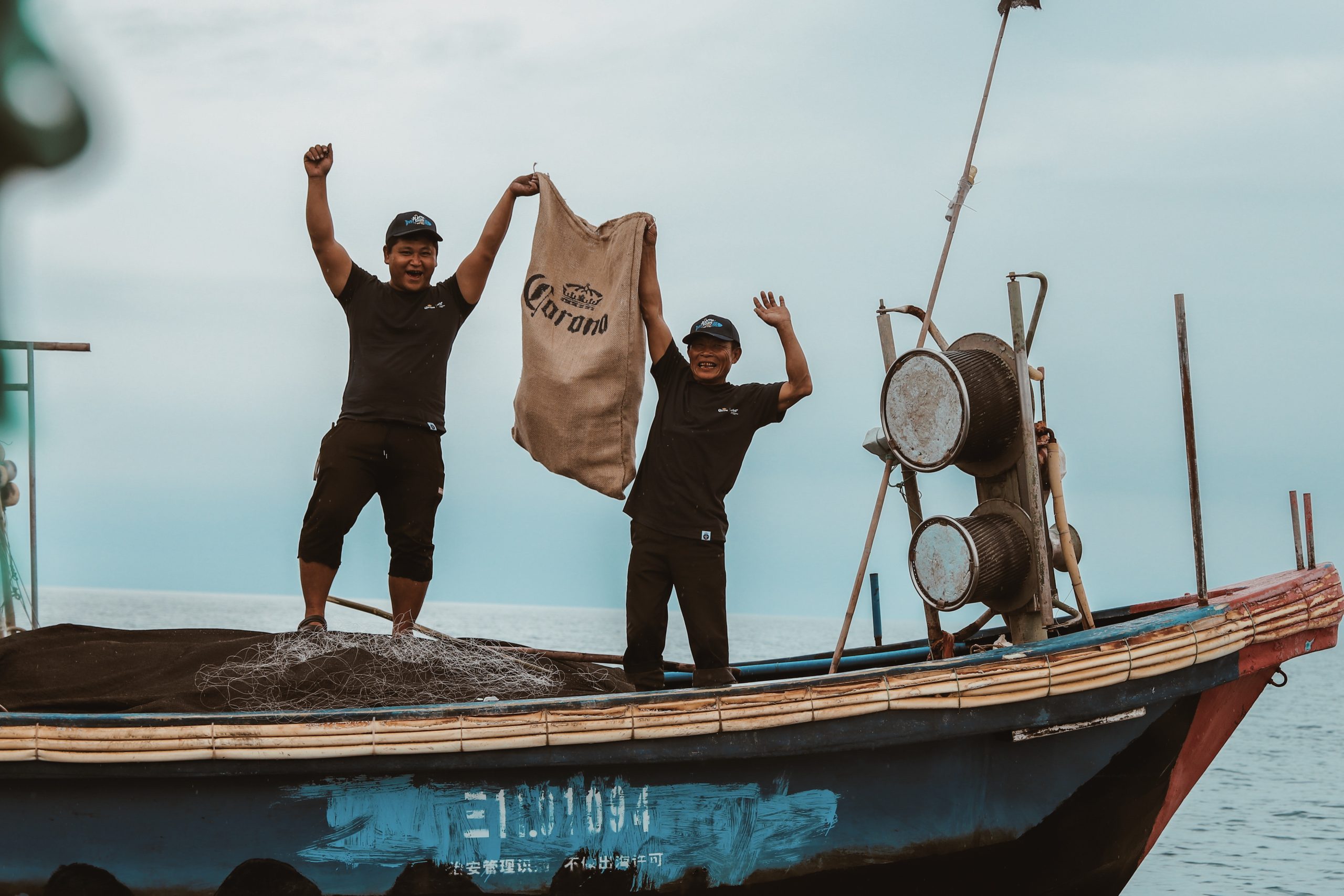 Overview
Removed over 20 tons of plastic from the world's oceans
What: Corona has been committed to the sea and its preservation since the very beginning, but its awareness and beach cleaning platforms were no longer enough: 14 million tons of plastic end up in the ocean every year. Corona set out to deepen its commitment to the environment by creating new sustainable platforms to combat ocean pollution.
In the spring of 2022, Corona created the first ever Plastic Fishing Tournament: a global scale initiative where fisherpeople from all over the world were rewarded for making the biggest catch of plastic waste in order to sell it to recycling companies while also cleaning the ocean. 
How: Held in Mexico, Brazil, China, Israel, Columbia and South Africa, Corona encouraged fisherpeople to sign up to recover plastic from the ocean while earning money. Each event was promoted in the local market through social media, local media outreach and grassroot materials as well as globally as part of Corona's longstanding commitment to protect the world's oceans and beaches from plastic pollution. During the events, we connected fishing communities with local recycling companies to compensate local fisherpeople for their plastic debris hauls while providing a new way of generating income. Through these connections, Corona hoped to make the compensation for ocean plastic an ongoing global practice long after the tournament. In addition, Corona hosted workshops for local fisherpeople on environmental initiatives and best practices. These important discussions focused on how everyone has a role in diverting oceanic waste from our waterways. Each event was replicable, scalable, and deemed successful in markets around the world. 
Overview
The Results – What We Achieved
Corona's Global Plastic Fishing Tournament demonstrated how communities can come together to help the environment and support the areas economically. As a result, hundreds of fisherpeople from all over the world have drawn an estimated 20 tons of plastic from the ocean. This effort was a step forward in making oceans cleaner. The campaign also garnered: 2.2B media impressions and 90% positive sentiment in earned media coverage. Results were measured through key message pull through, brand mention and sentiment.
20 Tons
of plastic from the ocean
90%
Postive Sentiment
Overview
The Results – What We Achieved
20 Tons
of plastic from the ocean
90%
Postive Sentiment
Awards & Creds
Because sometimes it is all glitter and gold…
Cannes Lions
Brand Experience & Activation: Corporate Purpose & Social Responsibility - Gold Lion
2022
Cannes Lions
Outdoor: Corporate Purpose & Social Responsibility - Gold Lion
2022
Cannes Lions
Sustainable Development Goals: Life Below Water - Gold Lion
2022
Cannes Lions
Outdoor: Live Advertising & Events - Silver Lion
2022
Cannes Lions
Direct: Corporate Purpose & Social Responsibility - Bronze Lion
2022
PRWeek Purpose Awards
Most Purposeful Campaign
2022
Clio Awards
Direct: Experience Activation - Clio Grand
2023
Clio Awards
Experience Activation: Events - Clio Grand
2023
Clio Awards
Public Relations: Environmental - Clio Grand
2023
Clio Awards
Partnerships & Collaborations - Clio Gold
2023
Clio Awards
Public Relations: Multi-Market - Clio Gold
2023
Clio Awards
Public Relations: Special Events & Activation - Clio Gold
2023
D&AD
Experiential: Responsible Activations - Graphite Pencil
2023
D&AD
Media - Graphite Pencil
2023
D&AD
Experiential: Community Activations - Yellow Pencil
2023
PRWeek Purpose Awards
Best Environmental and Best Collaboration
2022
PRWeek Purpose Awards
Most Purposeful Campaign - Honorable Mention
2022
PRWeek US Awards
Best Global Effort
2023
PRovoke
Global Campaign of the Year 2023
2023
Rovoke SABRE Awards North America
Multimarket Campaign
2023
One Show
Creative Effectiveness: CSR - Silver
2023
One Show
Innovation & Transformation: Innovation in Experiential - G
2022
One Show
Events/Stunts/Competitions - Silver
2022
One Show
Innovation & Transformation: Innovation in Experiential - Bronze
2022
One Show
Innovation & Transformation: Innovation in Direct Marketing - Bronze
2022
One Show
Experiential/In-Person Events - Bronze
2022