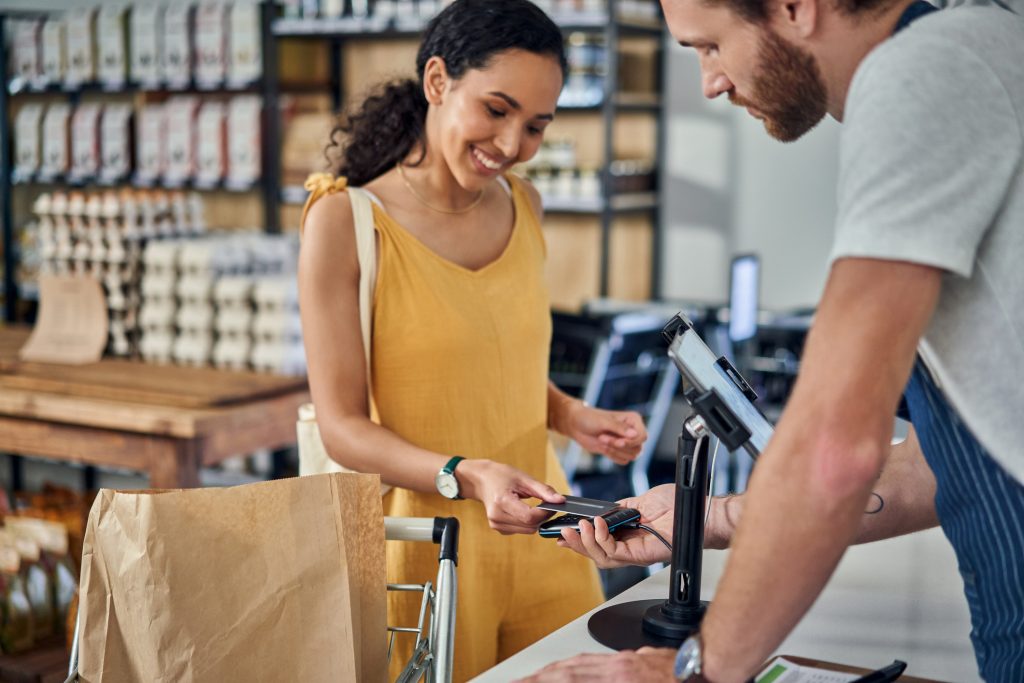 By Beecher DiNapoli and Jessica Dunten
NRF recently released its "2023 State of Retail & the Consumer" report, predicting retail sales will rise 4% to 6% to $5.1 trillion to $5.2 trillion in 2023. It further anticipates non-store and online sales to grow 10% to 12% and expects the physical sales channel will still account for 70% of all retail sales.
Given the retail sector's significant transformation over the last several months and past three years of challenges, it's an optimistic outlook. On April 23, major retailer Bed Bath & Beyond finally made the difficult decision to file bankruptcy, while others continue to thrive. Clearly, brands that don't adapt will be left behind. 
As curious communicators, we keep a constant watch on how brands adapt to the retail world. Here's a recap of some of the trends NRF identified and the brands leading by example across the industry:
Customers Demand Convenience Without Friction
Let's get phygital, right? The term "phygital" has popped up more as many brands find ways to use technology to bridge the gap between the digital and physical store. Consumers expect a frictionless process whether they shop in-store or online. There are no excuses. And we've seen brands successfully bring this to life in a few ways.
Traditional stores like Target have recently introduced technology to the in-store shopping experience. The consumer boxchain darling uses QR codes throughout the store to offer coupons, increase visibility of sales and present gift card opportunities. It's a no-brainer strategy for any shopper and a win-win for Target, which increases app downloads through this approach.
On the flip side, we've seen brands implement new technologies in their online shopping experience. Take Warby Parker, for example. The eyewear brand developed an augmented reality try-on feature to test lenses in the comfort of your own home. No more going to the store or ordering online and waiting to try on five pairs at home. By using this unique technology, it can speed up the purchase timeline and make an easier and seamless shopping experience for consumers to "try on" like they would in the store.
The Storefront is Here to Stay
Brick and mortar isn't going anywhere. Consumers enjoy the opportunity to go in-store to see, feel and try the products they're interested in. But consumers also expect the physical experience to be simple and personalized.
For instance, DTC brands see the benefits of having a physical touchpoint brought to its consumers. And Framebridge started opening stores in 2019, bringing the same simplicity of its online experience to a physical room. For individuals needing to see the size of a frame or feel the texture of a mat, they can do so at one of its many locations popping up in neighborhoods across the U.S.
Meanwhile, Barnes & Noble is the comeback kid of the decade. After years of store closings, the bookstore shifted strategies and has enjoyed a resurgence in foot traffic thanks to its new curated and localized approach. Its new focus has paid off. The uniqueness the bookstore chain now brings to every location has led to an anticipated U.S. expansion of more than 30 new bookstores this year.
The Rebirth of Resale
Beyond usually being offered at a more affordable price point, resale has become more appealing to the eco-conscious consumers hungry for products that reduce consumerism and are more environmentally friendly. In fact, the secondhand clothing business and resale retail market has become a more prominent part of the fashion industry and is expected to nearly double to $350 billion by 2027, according to the recent ThredUp Resale report.
While more brands look for new ways to meet the consumer appetite for sustainable brands, only a few retailers have done it particularly well. Take Patagonia. In the world of retail, it's difficult to find another more environmentally conscious brand, and it uses its expertise to master the resale market to generate a new revenue stream and attract new customers. Known as Worn Wear, Patagonia's resale division allows it to buy back old goods, refurbish them and sell them again at a reduced price. Since introducing Worn Wear in 2020, Patagonia has continued attracting customers to the site and promoting it at times of high consumption, like Cyber Monday, to encourage customers to sell their used goods or buy used instead of new.
Value is Key
Value will always be a crucial factor in the purchasing decision process. But recently, it has held even more weight for consumers. With inflation, higher prices and economic uncertainty comes a heightened focus on what value a product delivers. Brands have addressed this demand in a few different ways, including broadening their offerings, improving the purchasing experience and creating new loyalty programs.
Rent the Runway is one company leading the charge. As COO Anushka Salinas discussed during a panel for NRF, the RTR consumer is "as cost-conscious as she has ever been" and therefore selective on where and how she spends her money. In response, Rent the Runway embarked on a few new initiatives. Most recently, the brand announced a new plus-up that sweetens its service for subscribers by giving them an extra item per shipment without any additional cost. Earlier this year, Rent the Runway also signed a partnership with Amazon that offers consumers the chance to buy its second-hand luxury clothes and new, never-worn pieces from its "design collective" directly from Amazon through a virtual Rent the Runway storefront. With both of these announcements, Rent the Runway gives back to customers by providing them more choices for how and where they want to shop.
Other brands on our radar for recently expanding into new product areas include fan-favorite Bombas and the recently reinvented and repositioned Banana Republic. While Bombas, originally launched as a buy-one-give-one sock company, it has since expanded into other areas of apparel and will now offer bralettes that reinforce its purpose-driven ethos by donating a pair of underwear for every bralette purchased. Banana Republic has diversified by stepping outside of the apparel realm and dipping its toe into the interior design space with the introduction of BR Home. Based on the recent renewed love consumers have shown for the brand, we're excited to see what it has in store for homeowners who want the same level of quality, luxury and timeless style synonymous with Banana Republic inside their homes.
The retail landscape is constantly evolving, and retailers must stay on top of trends to retain customers, continue building brand loyalty and stay afloat during these times of economic uncertainty. We'll keep a close eye on how these trends evolve in the months ahead, so be sure to check back in for an update!
Beecher DiNapoli is an account director in the consumer practice at Allison+Partners. She helps lead accounts of all sizes and across a myriad of sectors, including home appliances, technology and mental health.
Jessica Dunten is a Senior Vice President at Allison + Partners with more than 10 years of experience. She drives global external communications programs, thought leadership and marketing strategy for a wide array of consumer, food and bev, and purpose-driven clients.