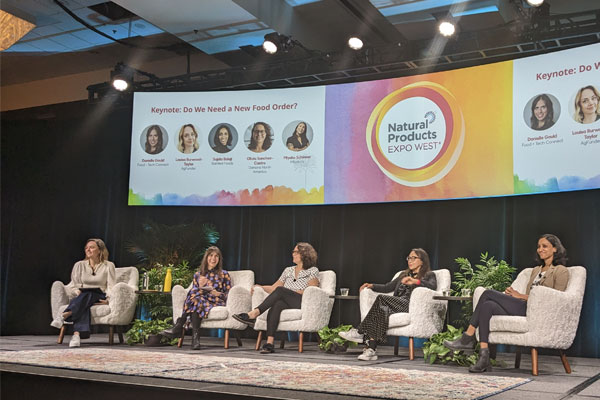 By Annie Drury
Often dubbed the Super Bowl of the natural foods industry, Expo West 2023 brought thousands to Anaheim with high expectations about food brands' quality and performance. I attended on behalf of Allison+Partners' Consumer Food & Beverage team to see and taste what will hit our store shelves in coming years.
From snacktivism (snack activism) to Barbiecore, the future of food is here – and it is delicious.
We've entered the snacktivism era
Expo West made one thing quite clear: brands cannot afford not to prioritize transparency, sustainability and (most importantly) taste to scale and make an impact.
But is massive scale the only way? This question was posed at a packed panel at Natural Products Expo West 2023, with speakers including plant-based industry veteran Miyoko Schinner and executives from Danone North America, Rainfed Foods, AgFunder and Food+Tech Connect.
This year marked a turning point in startup food culture with Miyoko's Creamery's separation from CEO/founder and namesake Miyoko Schinner. She said on the panel she sees a future focused on activism and education in the food world to empower people in their kitchens, with all speakers noting monoculture is a real problem.
With seemingly every new product making "good for you and the planet" claims, brands must go further and ensure their messaging and their values provoke change to get a gold star from consumers. From Olivia Castro-Sanchez at Danone North America's perspective, "Purpose and performance need to co-exist."
Flavors of the Tropics
Tropical flavors, especially guava, stole my palate at the show — tons of brands launched products with what is shaping up to be one of this year's most buzzworthy flavors.
Craize's Guava Chips were hands down the most delicious item I tried. They were crisp and perfectly mixed tart and sweet. I even paired it with cream cheese and lox for a surprisingly winning combination. Other notable nibbles with tropical inspiration from the show included Better Booch's new Guava Cooler with mango and makrut lime and Better Sour's line of globally inspired sour gummy candy that nailed a better-for-you version of Sour Patch Kids. While guava was its most compelling flavor, calamansi (Philippine lime) came in a close second.
Whether it's to tap into the nostalgic flavors of our childhood or bring our tastebuds on a tropical vacation, fruity flavors have made a major a comeback.
Barbiecore and other beloved IP have entered the chat
Barbie subtly stole the show with her brand deals. With Greta Gerwig's much-anticipated film hitting theatres in July, beloved brands and newcomers have seized the chance to get in on the action with products inspired by Mattel's top seller. Some standouts include Swoon's Barbie-Pink Lemonade and Di Martino's Barbie-branded pasta, which even came with a branded Di Martino pasta-cooking Barbie.
Barbie wasn't the only beloved character with her time in the sun at Expo West. Smurf-branded vitamins had great visibility in the Nutraceuticals Hall and Shine Water launched a Trolls-branded vitamin water timed to hit shelves with the release of Trolls 3 this year (cue Pharrell's "Happy").
We all know SpongeBob Easy Mac tastes better than the original, so I was excited to see brands tap into pop culture with their own takes on family-favorite characters.
Transported across the globe with new flavors 
Newer brands showed up to Expo West to elevate new regions and landmark ingredients lesser-known to the American palate: 
Energy in new forms
When the inevitable food coma hit, I turned my attention to the energy-focused treats featured at the show. Some of the caffeine-clad products I tried even had me ready to swap out a cup of coffee or two.
Caffeine is a staple in a PR diet, but sometimes sitting down to drink a cup of joe isn't in the cards. The Verb Energy Bar was the perfect on-the-go pick-me-up. It packed as much caffeine as a shot of espresso in a tasty bar – meaning no spills! I loved the S'mores flavor!
The caffeinated beverage category brought some delicious surprises. My favorite line of sparkling water, Rambler, bottled up its magic Texas Hill Country water and added Yaupon for a delicious, low-sugar energy drink line that comes without the coffee jitters – peach and pomegranate were my standout flavors. Unsweet Organics perfectly captured the natural floral notes of its teas with flavors like White Tea with Jasmine and Green Tea with Rose and Hibiscus.
I couldn't fully leave out coffee and was thrilled to see Sang Vietnamese Coffee has bottled the beloved treat with exciting flavors like Saigon Cinnamon Latte.
Analogues and plants
As in previous years, plant-based, dairy-free and vegan continued to dominate the show, with nearly every brand tapping into the buzz.
Climax Foods' dairy-free cheese already heralds the approval of Michelin-starred chefs, and it did not disappoint with samples of its blue cheese. Based on the consistently long line at its booth, the upcoming line of plant-based brie, chevre and feta are sure to be chef darlings once they hit the market.
Meati teamed up with Momofuku by topping its Crispy Cutlet on Buns with Momofuku's chili crunch, pickled cucumber and white sauce for a restaurant-quality appetizer. As more alternatives come to market, it's exciting to see real-life applications to encourage the popular flexitarian lifestyle. Meanwhile, Chef Hak's beautifully frozen traditional vegetables sides, such as carrots, reminded me the plant in plant-based is delicious as-is.
Annie Drury is a passionate foodie and vice president in our San Diego office, leading PR and influencer strategy for a variety of food and wellness clients. She has helped some of the most innovative natural food and beverage brands scale communications efforts at various levels of growth and often spends her free time taste-testing, cooking and decoding research on the latest food trends