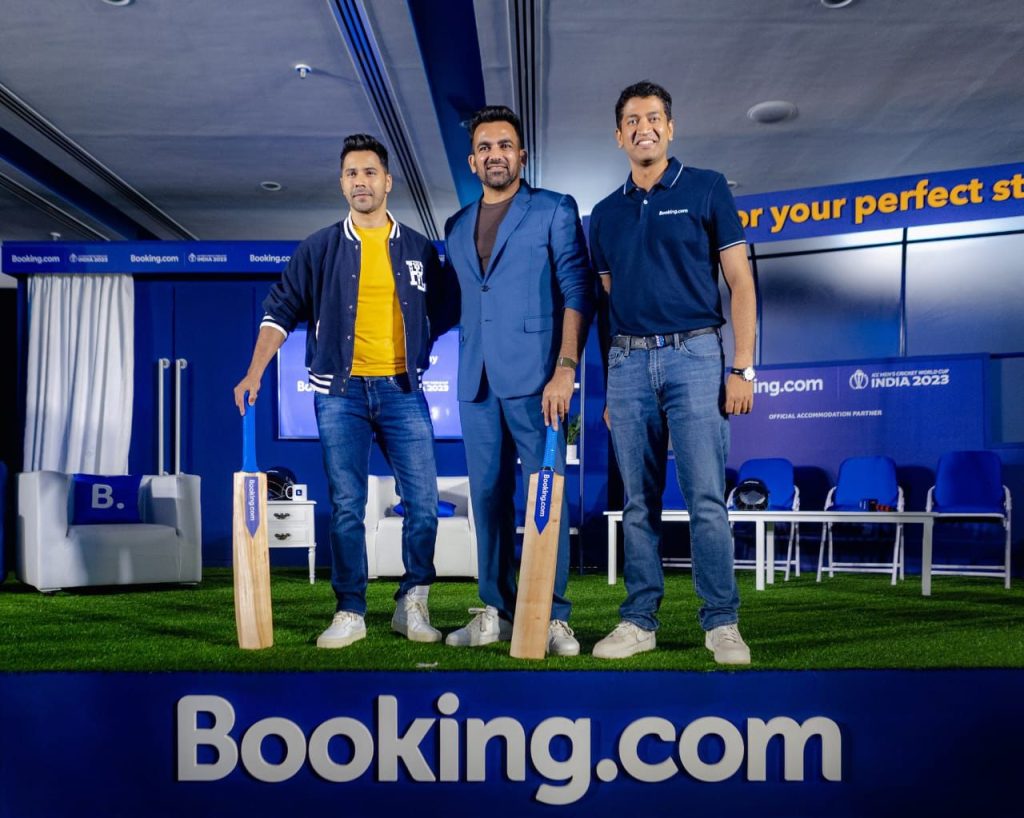 By Pranav Kumar
The past two years have seen sports feature centerstage in our work as an agency – and for me, personally.
With the ICC (International Cricket Association) Men's Cricket World Cup underway in India, we kicked off our client Booking.com's 'Howzat for your perfect stay' campaign (Booking.com is also the tournament's official accommodation partner). The integrated campaign blends the world of travel and sports, as excitement among cricket fans soars. In fact, Booking.com's APAC Travel Confidence Index found 56% of Indians are eager to attend live events, including sports tournaments in 2023.
The campaign kicker was an exciting launch campaign ahead of the ICC Men's Cricket World Cup, bringing together former cricketer Zaheer Khan and Bollywood actor Varun Dhawan. Both spoke about their love for sports and travel, and we'd be remiss if we didn't throw in some on-stage cricketing action with a fun bowling and batting duel with the stars. A few of our lucky team members have also attended some of these matches as the tournament progresses. The excitement is palpable!
Earlier in the year, out of my love for golf, I also attended the 151st Open Championship – golf's fourth major event of the year, following the Masters, U.S. Open, and the PGA Championship, at the Royal Liverpool Golf Club in the U.K. And last but certainly not the least, Allison had the rare opportunity to support the 2022 FIFA World Cup Qatar, promoting the event to scores of Indian fans with the chance to witness the action in Doha just a short flight away from home. Again, our team members had the privilege to be on-site at the FIFA World Cup Qatar, joining a global team that supported the organizers at a frenetic World Cup media center. 
Being on-ground at these world-class sporting events, irrespective of the sport, is an experience in itself. It can be something we forget when seated behind television screens or glued to our mobile devices. The thrill, energy and being amid adrenaline-fueled passionate fans are something else.
As a marketing communications practitioner and from firsthand experience as a sports fan, I couldn't help but ponder on the power of sports to unite, excite, attract and energize audiences. Sports breaks down barriers, and cuts through audiences like no other marketing platform can.
In an age where the fight for attention is fierce and building brand loyalty is arduous, especially with Gen Z and millennials, sports and sports marketing can certainly be the X-factor for brands in the marketing mix. Some quick thoughts on why:
The power of experiential
Experiential marketing is on the rise, and so is the desire for today's digitally connected and savvy audiences to get out there and experience something new. Whether it's to check that bucket-list item or to even standout on social media (yes, peer pressure is real there), sports offer an unparalleled experiential platform. With captive audiences, brands certainly have the chance to build unique connections and positive experiences with their customers.
Tapping into (and fueling) fandom
Ardent followers of any sport take fandom to another level. Whether it's collecting memorabilia, following their favourite players or teams, or moving heaven and earth to make it to that must-watch final of a tournament or championship, brands can stand out by building strong connections with their consumers. Also, by projecting the right attributes, such as passion and vibrancy, and being seen as modern, youthful and progressive.
Building brand preference
One's choice of sport – whether playing or following one – is entirely personal. So is the inspiration and what it embodies for every fan or the player in us. Aligning brand values to a particular sport that best exemplifies them (such as teamwork, focus, agility, strength) can go a long way to build meaningful engagement and a sense of purpose with consumers.
Targeting desired demographics
The ability of sports to resonate with a swath of demographics is unreal. From football, cricket, rugby or golf, each has its own appeal and ability to effortlessly cement audiences. By choosing from mass-appeal sports to niche ones, brands can juggle with and invest in a variety of sports marketing platforms to reach their desired consumer profiles, building strong brand affinity and preference in the process.
Creating unique brand moments
Tying it all together and to accomplish all these goals, a sports platform gives marketers, brands and PR practitioners alike the ability to be tremendously creative and craft compelling campaigns to create unique brand moments (yes, I am talking about 'viral' campaigns). Sports+Marketing is fun!
In today's cluttered marketing and content landscape, sports hold immense appeal for brands to build resonance with their customers and capture attention. Thanks to the growing popularity and emergence of a variety of sports, big and small brands can invest in sports marketing platforms to fast-track their marketing goals. Beyond cricket, the recent successes of the Indian contingent at the 2023 Asian Games in China, Neeraj Chopra's Gold Medal at the Tokyo 2020 Olympics and the recent successes of Indian golfers especially on the Ladies European Tour mark the emergence of India as a multi-sport nation.
It's a wide playing field for brands looking to tap into the power of sports. Howzat for brands looking to be edgy and cool?
Pranav Kumar is a Managing Director based in India.
Reach out to the team for more info: [email protected]