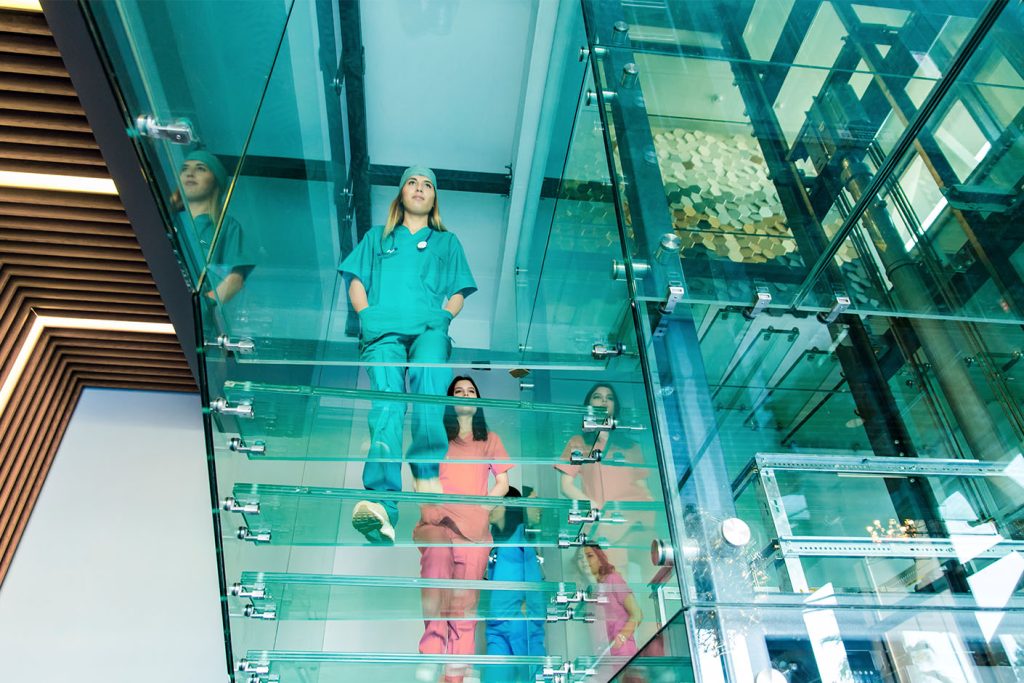 When the COVID-19 virus thrust us into a global pandemic, all eyes were on the biopharma industry. From headlines and the nightly news to conversations with friends and loved ones, it became impossible not to hear about the healthcare companies at the forefront racing to deliver vaccines and treatments that boasted the promise of ending the pandemic.
More than two years later – after some of these companies did, in fact, deliver on those promises – public perception around biopharma companies continues to shift. Since the beginning of the pandemic, public trust in pharmaceutical companies rose drastically. A 2020 survey showed a 52% increase in positive perception towards the pharma industry than before the pandemic began — a testament to the impact of large-scale innovations, exemplifying the benefits of R&D efforts and quick-to-market health solutions for everyday people.
However, given increased visibility and awareness of clinical trials, medical research and patient data, we must be vigilant about misinformation and public confusion to increase trust in medical research and healthcare. As we move toward a post-pandemic world, there has perhaps never been a bigger need for healthcare communications than right now. But there is also tremendous pressure on these companies to communicate clearly and – importantly – responsibly, to tell their story.
Storytelling is at the heart of what we do, and we love opportunities to partner with some of the most innovative health companies to communicate their promises and potential to the world. The challenge biotech, biopharma and health tech companies on a mission to deliver a first-of-its-kind treatment or device face is crafting a narrative that communicates the potential of the solution without overpromising. This is especially vital in healthcare, when devices or medicines may still be in clinical trials and regulatory reviews.
So, what do we mean by responsible storytelling?
To keep patients and families safe, laws and regulations around communications for medical treatments and devices constantly evolve, making healthcare one of the most highly regulated industries. Our clients rely on us to possess a deep knowledge of all forces at play, including the most current regulatory and legislative changes and their impact on stakeholders across the care continuum. When we work with healthcare clients to tell their stories, we want to ensure we root the narrative's foundation in factually accurate data that is also compliant. Using data-backed proof points approved by medical, legal and regulatory teams, we build a compelling set of messages that communicate potential patient impact while standing up to the highest compliance standards.
Word choice is of the utmost importance when it comes to responsible storytelling for our healthcare clients. The smallest words can have the biggest impact. For example, we advise our clients to consider avoiding words that are less concrete and make specific promises, like "cure" and "transform," "revolutionize," or "change forever." Instead, we suggest words that demonstrate the impact a company believes its product could have on an industry or community, like "opportunity" and "hope."
As noted previously, this is especially crucial for companies that have products or medicines still undergoing trials and testing. As communicators, we must examine potential storylines for clients in this industry with responsible storytelling as our North Star.
What happens when irresponsible storytelling enters the mix?
By now, you've probably watched, read or heard about a Silicon Valley biotech company that became a household name for all the wrong reasons – Theranos.
The unfortunate tale of Theranos' founder and CEO Elizabeth Holmes illustrates the enormous risks to public health when healthcare companies lead with irresponsible messaging claims not backed by factual data. Unlike the companies that provided lifesaving solutions during the pandemic, Theranos left a lingering negative impact on the industry, eroding public trust in healthcare startups by falsely claiming to have technology that could provide accurate test results using only a single drop of blood.
With any company (both inside and outside the healthcare industry) working to get its first product or technology to the market, external communications must attract attention from media, investors, partners and even potential employees. If you're familiar with the tech industry, you have undoubtedly heard the motto: "Move fast and break things." We understand from experience the regulatory, investor and market-driven pressures these companies face that contribute to the desire to "move fast," and make bold statements to stand out from competitors or beat them to market. As a strategic thought partner to our clients, it's our job to help them find visionary messaging that is consistent and conveys the true potential impact of their technologies/medicines without playing "spin doctor" by making false claims or promises to patients and providers.
To ensure we work with our healthcare clients to be effective, yet responsible, storytellers, we rely on following three key tenants:
Maintain a strong pulse on the media and regulatory environment
We have a depth of client experience, industry relationships and proven methods we use to keep up with ongoing industry regulatory changes. This enables us to be proactive rather than reactive, getting ahead of any shifts or changes in the healthcare space. As we've seen in recent years, regularly monitoring the FDA and FTC regulations for social media communications and marketing guidelines, especially when it comes to partnerships with influencers, is crucial as they constantly evolve.
On behalf of our clients, we also keep a pulse on media trends, coverage and sentiment. We maintain strong relationships with top-tier, health and business trade media outlets to ensure they keep our clients top of mind and that our contacts understand the unique nuances of our clients' business, products, pipelines and clinical programs.
Putting Leadership Front and Center
Company stories that come from the mouths of multiple C-suite executives make technical and scientifically complex information (think clinical trial data, pipeline updates, technology platform details, etc.) easier to synthesize into concrete and digestible proof points that can be leveraged for every communications touchpoint. This includes opportunities from broadcast media interviews to internal town halls, to investor presentations. We work with key company leaders in the organization to ensure everyone sings from the same songbook of accurate, yet compelling, messaging and talking points, yet can bring unique perspectives to the table.
With biopharma messaging and storytelling comes complex mechanisms of action, clinical trial designs, and nuances around the regulatory approval process. For the average patient or caregiver, it can be nearly impossible to sift through the jargon and complexities. This is where leaders also play an important role. With clear messaging tailored to specific audiences, they can break down the barriers and educate all their audiences through easy-to-digest language.
Share The Story Far and Wide
Lastly, it's time to deploy our messaging through an omnichannel approach (check out our recent blog on ways we go beyond earned media to elevate and share our clients' messages). As we execute on our communication plans, we always adapt our strategy while we monitor performance and news cycles.
In the health space, we also ensure the channels we choose are appropriate for various audiences (patients, providers, etc.), and anyone interacting with our story across platforms isn't sharing false claims or data. We also welcome two-way communications opportunities – like a Twitter Q&A with a chief medical officer or a live webinar featuring key executives – to increase dialogue and transparency between a company and the public, which foster education and health literacy.
Just like our clients, we're passionate about delivering novel solutions for patient populations using transparent communication as our foundation. We understand the pressure and stress that comes with innovation — as if they're racing on a track, without knowing where the track veers or even ends. With our help, clients can rush to the finish line, knowing that we'll cross over it safely, together.

Lucy is a born-and-raised Pacific Northwesterner and grad of the University of Oregon with degrees in public relations and journalism. She brings experience with media relations, content creation and event management to Allison+Partners' health practice.
Jacquelyn is a strategic communications professional with several years of experience managing a wide range of communications programs for health clients. Currently, she serves as an Account Director in Allison+Partners' health practice, leading clients across biopharma and health tech