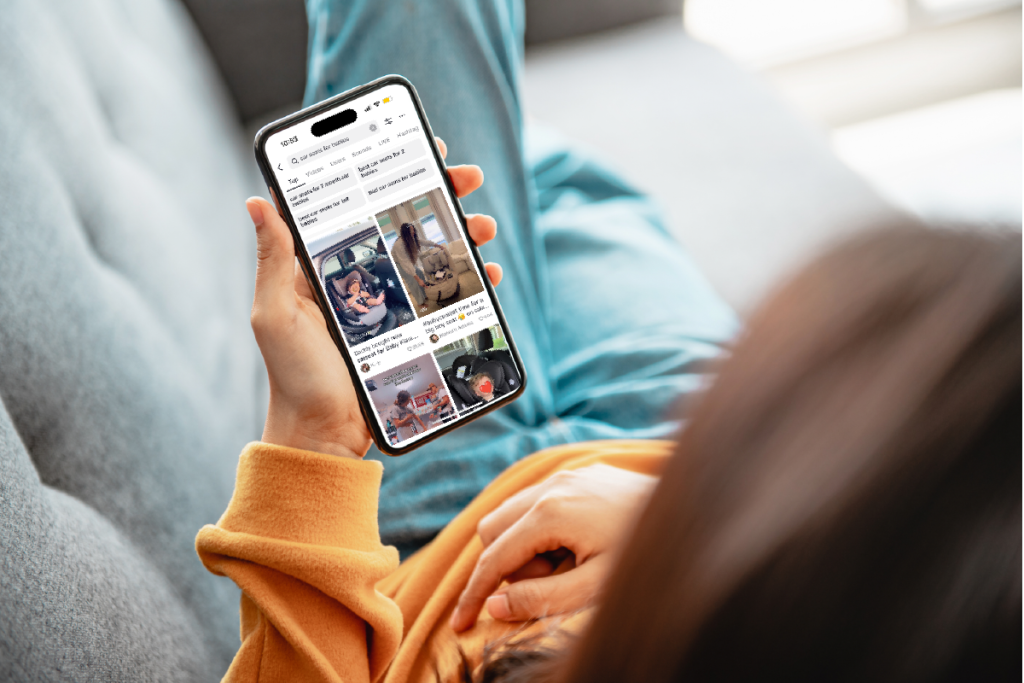 By Cameron Davis-Bean
Starting a TikTok channel can be an intimidating step for a brand, but the platform's meteoric rise in popularity has many marketers taking a second look. And for good reason. The potential value to marketers and brands is clear: 
According to a 2022 HubSpot survey, 44% of B2C marketers and 39% of B2B marketers currently leverage TikTok, and 26% of marketers overall plan to start using TikTok in 2023.
There are a few key questions to ask as you evaluate the business case for starting a TikTok for your brand.
Are your customers on TikTok?
With roughly one-third of the U.S. population using TikTok, the answer is "most likely." If you have a defined customer persona, you can compare that with publicly available demographic data on TikTok users from sources like DataReportal. While TikTok users do skew younger than other social networks, it's a common misconception that ONLY Gen Z uses TikTok. Data shows the platform has also caught on with older users.
Age of TikTok users in the United States (Source: Statista)
18-29 years: 37%
30-39 years: 29%
40-49 years: 19%
50-64 years: 15%
You can also get a sense of whether your target audience is on TikTok by going directly to the platform to research the number of video views on search terms and hashtags relevant to your brand. Remember to search for both branded and unbranded terms, as well as for your competitors. Even if your brand doesn't have an official presence on TikTok yet, you will likely find people are already talking about you, or at least your category. The results may surprise you, even if you target a niche.
For example, for a client in the medical device space, we helped them discover billions of video views related to the disease they help patients manage and hundreds of millions of views specifically mentioning its brand. Meanwhile, their competitors' terms had far fewer views, presenting an opportunity to acquire more users and solidify our client's leadership position.
What are your goals for starting a TikTok account for your brand?
There are no wrong answers here, but defining your goals for the channel is a key step that will enable you to map your strategic approach and evaluate success down the road.
For some brands, their TikTok presence primarily serves as a driver of discovery and awareness. Consumer behavior is shifting more toward social discovery of new products rather than using search engines, making TikTok content increasingly important for your products and services to get noticed.
TikTok has also become an important channel for research in its own right, with users looking to creators and brands for reviews, comparisons, and other information to help inform their purchase decision. TikTok can also be a key driver of conversions in the form of purchases or leads, particularly through paid campaigns. For many brands, TikTok can enable you to reach previously untapped audiences, and we've seen this help clients achieve higher efficiency and lower customer acquisition costs on TikTok than their existing channels.
What kind of investment will you need to start a TikTok account for your brand?
Like any business decision, it's important up front to weigh the potential costs against the potential returns. The good news is you have a great deal of flexibility to start small and scale up as you go.
While it's entirely possible to pick up your phone, start an account and post your first video all within about 10 minutes, I recommend budgeting for some time and effort up front to ensure you have a solid, sustainable strategy.
Key planning activities include:
Research on macro platform trends, conversations and creators in your niche, and the competitive landscape on TikTok for your brand
A content strategy outlining your audience, what you want them to learn or the actions you want them to take, content pillars, frequency, and KPIs to measure success
A plan for content creation. You have many options here, including creating your own content, working with individual creators, working with creative agencies or freelancers, or a combination of all of the above.
If you haven't used TikTok personally yet, be sure to spend some time on the platform each day for a week or two to get a feel for what kind of content resonates on the platform (and what you immediately scroll past)
An internal process for securing any necessary content approvals (including Legal review, as needed)
A plan for community management (responding to comments and questions – an important piece of helping grow a community and organically gain traction)
Paid media plan and budget (while ads are not a required element of your strategy, we recommend at least running a pilot ad campaign to jumpstart your organic presence and evaluate what kind of revenue ads could drive for your business)
Beyond the initial planning phase, you'll need to budget time for ongoing content creation, monitoring for trends and performance analysis. For many brands, content creation will be the biggest driver of ongoing time and effort needed.
How can your brand create enough TikTok content to keep up with the fast-moving platform?
Some sources advise brands to post up to four times daily on TikTok to be successful. That can be a daunting amount of content even for large teams. But the reality is there are no hard and fast rules, and you can start your channel on a much smaller scale and then build up the frequency based on what you find works well for your brand. Two to three videos per week is a good starting point.
And you don't have to stage a big-budget production for each video. In fact, we would generally advise against it. Focus on a more native-looking content approach, making many small bets to see what works rather than using all your budget on one production. You can also source user-generated content from creators in your target audience and use trending video templates to fill in your content calendar without ever needing to film anything yourself.
Ready to start your brand's TikTok?
If the idea of starting a TikTok channel for your brand feels intimidating, don't worry. You don't have to do it alone. Our team of experienced strategists can work with you to conduct the initial research, build the business case and create a strategy that fits your goals. We can also support you with ongoing content creation, assembling and managing a team of creators, running shoots for your brand, managing ad campaigns, community management, and performance measurement.
While less than half of marketers currently use TikTok for their brands, that is rapidly changing. The marketplace has become more crowded, but there's still an opportunity to get ahead of your competitors and drive business growth on TikTok.
Enjoyed this read? Here's part two of this series: How to Build a Content Engine with User-Generated Content.
With over a decade of experience building connections between diverse audiences, Cameron Davis-Bean helps clients solve complex business problems by bringing them closer to the people they serve. Driven by curiosity, Cameron builds integrated marketing programs that remix best practices with bespoke insights for each brand.