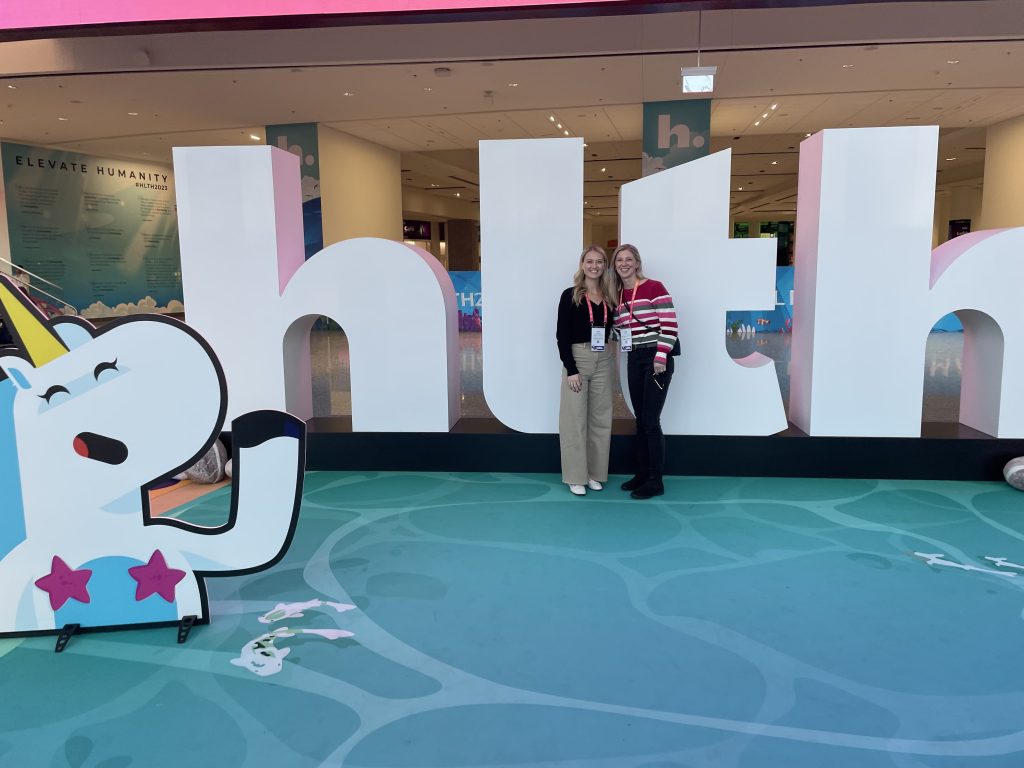 By Sarah Natoli, SVP Health Strategy
For those of you not yet familiar with HLTH, let me share a few stats to paint a picture of what an amazing opportunity the conference is for those of us working in the healthcare industry. It boasts more than 10,000 attendees, 2,500 CEOs, 350 speakers and 900 sponsors. Described by the organizers as "the ecosystem event for the entire healthcare industry," HLTH does a good job of living up to the hype. In fact, I traveled all the way from Boston to Las Vegas because of the unparalleled opportunities to learn, network and perhaps most important – get inspired.
This year, I was only able to attend two days, but that was plenty of time to identify where the energy in the industry is currently focused. Knowing that some of my colleagues missed the conference due to the devastation in Israel and Gaza, this year it seemed even more important to share the key themes and their implications for communications professionals.
Observation No. 1: AI dominates dialogue across every corner of the industry
On Monday morning, Erin Brodwin interviewed Google Senior Vice President James Manyika about AI and data protection (as one would expect, she did not go easy on him, but he held his own). On Tuesday morning, Corporate Vice President of Azure and Industry from Microsoft Alysa Taylor talked about how the company uses AI to unlock all the "trapped data" in healthcare. These were not discussions about the future. Rather, they were discussions about all the innovative ways AI is being used today by leading industry organizations. That AI has truly taken off isn't exactly breaking news, but there's a notable difference between reading about tech advancements in the healthcare field on your iPhone and getting 10,000 professionals together in person to talk about the myriad use cases being deployed across the ecosystem.
Beyond HLTH making AI feel both much more tangible and more accessible, it also confirmed there's very little risk of over-indexing on AI – if your company has an AI story, now is the time to tell it. With ViVE right around the corner, healthcare marketing and PR professionals have an immediate, near-term opportunity to leverage the momentum around not just AI, but all emerging technologies, to get their executives on stage to talk about how they use these new tools to drive impactful innovation. And we can get creative with what we highlight in these applications. For example, the HLTH audience was just as interested in how Moderna has created its own private and secure instance of mChat to reduce the time employees spend on administrative tasks as they were in hearing about how the company uses AI to advance drug development.
Observation No. 2: It's no longer taboo to talk about mental health
This year's conference had a lofty theme of "elevating humanity." Candidly, most of the panels I attended fell short of hitting that high bar. However, mental health programming was almost as prevalent as AI programming – and those panels were compelling enough to incite action post-HLTH, in large part because panelists offered tangible examples of what those actions could look like. Whether it was startup founders sharing stories about their own experiences with burnout and poor mental health while building their companies, comedian Howie Mandel on the main stage educating the audience about OCD and how we shouldn't assume people are "OK" on the inside because they're smiling on the outside, or the all-female panel led by HLTH's own Jody Tropeano on how social media impacts teen and adolescent mental health – these panels truly hit home and marked a shift in thinking. It used to be taboo to talk about depression, anxiety, eating disorders and other mental health challenges. But in today's world, vulnerability is valued. And at HLTH, these conversations were not just encouraged, they were celebrated.
If you're a marketer or PR professional and your company doesn't have a mental health offering, that shouldn't prevent you from participating in this important dialogue. Consider having your executives (whether it's your CEO or your CHRO) author thought leadership on the strategies they deploy and the tools they bring on board to prevent burnout among their own employees. Better yet, put forward a panel proposal on the topic for an upcoming healthcare conference. Between the data that clearly demonstrates the pervasiveness of mental health in the U.S. and the irony that those working in healthcare are often at highest risk of burning out, experiencing depression and even suicidal ideation, there's plenty to talk about.
Observation No. 3: Many industry veterans are tired of talking about long-standing industry topics like VBC, data management and healthcare's siloed systems
These topics are still top of mind in our industry, but they're certainly not as "sexy" as AI, and it's a lot harder to draw a connection between VBC and improving humanity than it is to connect the dots to mental health. Panels that managed to map these long-standing challenges to solutions made possible by tech advances had some degree of success. But it's understandable industry veterans didn't necessarily want to spend their time at one of the largest conferences of the year having the same conversations they've had for a decade – or more. I'm still rooting for a shift from fee-for-service to VBC, but that didn't mean I wanted to spend my precious time in Vegas among the sharpest and most innovative minds in healthcare rehashing how long it will take.
This topic fatigue presents a challenge for marketers and PR professionals, particularly those at companies doing the important work of trying to crack the code on solutions. But don't marketers and communicators love to rise to the occasion and find creative ways to break through, even on what some consider dull or tired topics? How do we do it? We double down on storytelling – because people remember stories, not facts – and we put a human face on these issues.
Need help identifying the right angle to insert you or your company into these conversations? Reach out to the Allison Health team – we're here to help.