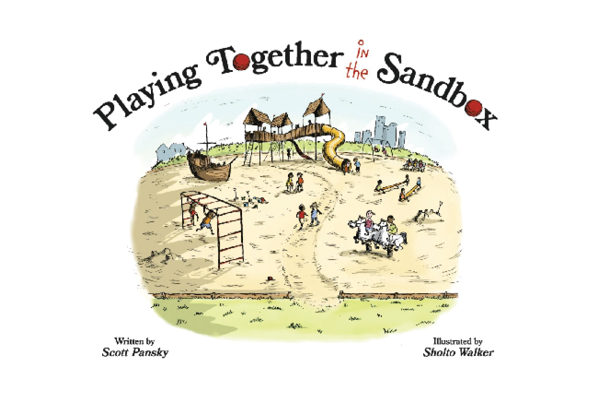 By Jacques Couret
Children harbor a deep sense of wonder about the world, finding inspiration in virtually everything around them. They dream about becoming a princess, astronaut or doctor and embrace those possibilities as perfectly reasonable and achievable. Their unfettered imaginations see endless possibilities, allowing creativity to thrive easily with little fear of judgment or self-doubts.
Then they grow up.
It's easy for people to become their own worst enemy. As they grow up, they face self-doubt, selfishness and cynicism and the pressures adulthood can bring. And while the memories of the playgrounds of youth can fade or turn into a brief comfort of nostalgia, the lessons learned there could, and should, remain instructive and motivational. The world is just a larger playground.
In his newly published children's book "Playing Together In the Sandbox," Allison Co-founder and Social Impact Lead Scott Pansky taps into his personal and professional experiences to teach kids and remind their parents about the important life lessons learned playing in a sandbox that can later in life propel them to build and retain successful interpersonal relationships and personal career success.
The book depicts a diverse group of school children outside playing during recess. Every page demonstrates how the children encourage each other as they play in different parts of the sandbox followed by a lesson on the bottom of each page that they can keep for a lifetime. For example, the group thanks one child, David (in memory of a past Allison associate David Wolf) for helping them build a river, and the lesson below shares: "Be kind, it's great to help others and others will help you in return."
Pansky said people need to remember how important it is to listen, treat others respectfully and build relationships. This theme permeates the book, illustrated in black and white as a nod to Shel Silverstein but symbolized with the only color to appear within the drawings – a red ball that shows up in some fashion on every page bringing everyone together.
"The red ball thematic comes from Allison University, where we do something called the 'koosh ball toss.' We come together, sit in a circle and pass around the ball and talk about what have we learned together."
He also drew inspiration from the agency's core values:
Inspire Enthusiasm
Embrace Different
Break New Ground
Be Resilient
Exceed Expectations
Win Together
"Since our inception, our core values have differentiated Allison from other organizations," he said. "By living and breathing our core values, there's no reason why we can't help inspire others."
Pansky also said these core values encourage a kindness sorely needed in today's world, when war, inflation and other uncertainties raise anxiety and can make the world feel overwhelming. Toxic stress is real, and how people treat each other and their children is crucial.
"These are common humane values that can speak to anyone to help create a kinder world and help build self-esteem," Pansky said. "The lessons in this book speak to that. We're teaching kids how to play nice in the sandbox at an early age, and just as important to the parents and teachers to reinforce and remember they also play in the sandbox. We are never too old to be reminded to play nice and encourage others as well."
Pansky wants the book to become an opportunity for readers to take a step back and recall what it was like to be 5 years old, when nothing stopped them from dreaming big and being creative.
"When we get our ideas shot down too often, it is easy to develop an attitude that whatever we dream or propose won't work and we shut down either personally or professionally and won't speak up," Pansky said. "We become our own worst enemy, we lose sight of the joy we had when we were a child. When I finished this book, I realized I'm just an oversized kid and that has served me well. I love Star Trek, comic books and soap operas, and I have developed campaigns that have benefitted my clients based on those experiences. Everyone can do this!"
Being your authentic self is truly a plus that can help people stand out positively in their careers and personal lives. Pansky recalled an exercise he learned from the former Head of Innovation and Creativity at The Walt Disney Co. Duncan Wardle in which he asked his audience to draw a house in seven seconds. The results usually looked the same – a flat square with a triangle on top that everyone learned when they were in kindergarten.
"Duncan was really on to something. 'Why do they all have to look the same?'" Pansky said. "The people in these workshops that chose to draw different types of houses, such as a doghouse or a castle, stand out. Our job is to help everyone feel free to think differently and remind them it's OK to be you!
If his new book can inspire and empower others to play nice and have fun in the sandbox, he said he's done his job.
"The whole thing is it's about bringing people together, building authentic relationships and empowering people," Pansky said. "It's about exceeding expectations because we can do anything if we put our minds to it. That is why that last sentence in the book reads, 'The world is our playground.'"
Pansky is finishing his next book, which he hopes to inspire college students and young professionals, "Lessons Learned From Playing Together in the Sandbox."