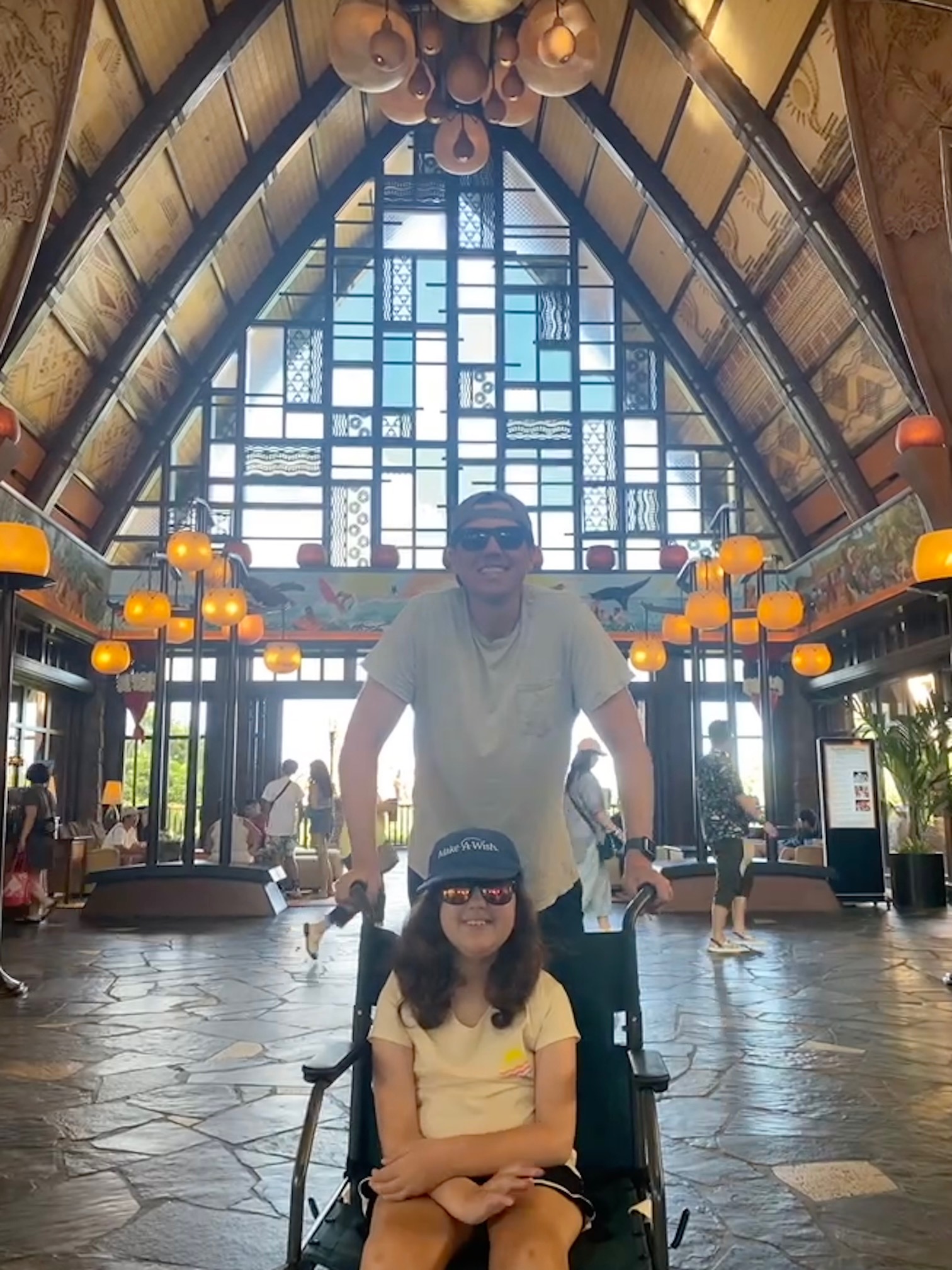 By Owen Clark
The front staircase at the Kimpton Fitzroy London Hotel is magic. At first glance, it's indistinguishable from the rest of the more than 100-year-old landmark property's striking exterior design – a style the guidebooks describe as modeled after an 1800s French Chateau. The stairs themselves are short but steep, with no ramp in sight and no other obvious entrance to the building.
As the woman in the wheelchair approached, I and the film crew felt a general sense of confusion about what would happen next. Then with the push of a button from the bell desk, the stairs transformed, collapsing in on themselves to become a small elevator, ideally sized to fit a wheelchair and transport the occupant into the opulent lobby in unexpected style. It was the perfect visual representation for the video we created for Kimpton's Stay Human campaign, and it was a window into the travel experience I would undertake several months later on my second sabbatical at Allison.
My oldest daughter Avery's progressive degenerative genetic disease has reached a point where she can't walk for more than a few feet without assistance. As an able-bodied adult, I've always understood the hypothetical challenges of traveling with a disability. But the true physical and emotional realities never clicked until I became a parent of a disabled daughter. As we planned our activities for my sabbatical, I kept going back to that time in London. The woman we filmed in the wheelchair is Tess Daly, a travel influencer who is disabled and had agreed to work with Kimpton on its campaign to show a new side of social media travel content. During our interviews, Tess told me: "I love aspirational travel content, but there's not much of it through my lens."
You hear so much about "accessibility" when it comes to the disability dialogue. That's obviously incredibly important, but I didn't just want the Taylor Swift concert we'd attend to be accessible to Avery. I wanted it to be aspirational, amazing and memorable in the same way it would be to the thousands of able-bodied kids who wouldn't think for a second about the challenges of getting up the stairs to their seats at Levi's Stadium.
I didn't just want our subsequent trip to Disney Aulani hotel to be possible, because I had major concerns about the logistics of plane travel and the realities of getting around once on the island. I wanted it to be joyful, filled with memories of all the things Avery and our family can do and not continually marred by all the things we can't.
That's what makes the second half of Tess's quote so important. People with disabilities take amazing, inspiring and aspirational journeys every day, but we so rarely see them. The journeys are more difficult, but that can also make the destinations that much more satisfying when you get there. We need to tell stories of wonder, excitement and magic that come from an unexpected staircase, the perfect concert seats upgrades or the beautiful island views.
Despite my worries, I'm happy to report our sabbatical activities as a family were filled with more happy memories than I could have imagined. I'll be forever grateful to every ticket attendant, customer service agent and hotel employee who helped us along the way. And I'm blown away by the people at Make-A-Wish, who sent us to Hawaii and make it their mission to turn the accessible to the aspirational for families every day.
Finally, I'm grateful to Allison for giving me the month off to be with my family and exposing to me amazing stories like Tess'. It's incredible to do the type of work that can make you see the world differently as a professional and as a person. I can't build surprise staircases or change our social media algorithms. But I can try to share that if you look at travel through a different lens, you'll see it's worth the journey to get there.
Owen Clark is an Executive Vice President on Allison's Integrated Marketing team. He leads the agency's in-house video production studio team and the Media and Speaker Training department. He has been with Allison since 2010.