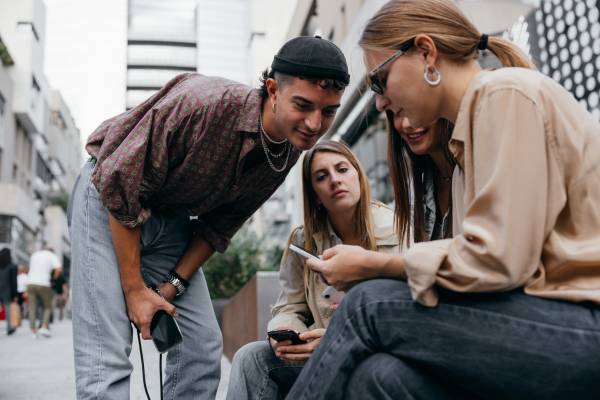 By Cassie Croissant
As expected, the social media landscape saw tremendous change in 2022. From Elon Musk's takeover of Twitter to the rise of BeReal, we witnessed user behaviors shift with the changing social tides, leaving us wondering what we can expect in the year ahead. While we can't predict the launch of the next big app or the demise of longstanding social superpowers, we can tell you what to anticipate from user behaviors in 2023 to help inform your social media strategy.
Authenticity
As of 2022, Gen Z had an estimated buying power of $143 billion (Rolling Stone), and that number will only continue to increase. To not have this group at the forefront of your social media strategy would be a missed opportunity, and at the very top of that strategy should be the word "authenticity."
Consumers are not interested in heavily branded social content or vague company policies; they want authentic, transparent communications from your brand. Followers want to know which social causes your company supports, what ethical business practices you follow and how sustainable you are as a brand. Younger generations care deeply about where they spend their money. And if your brand can't be open and honest about how it operates on its social channels, they'll likely take their business elsewhere.
There's also been a move away from inauthentic content. The days of highly polished images are over – instead, Gen Z expects to see your brand for what it is. Unpolished assets, quick-turn videos and real brand ambassadors are the future.
Social As Search
One of the biggest learnings to emerge in 2022 was that 40% of Gen Z turns to social media for search purposes instead of traditional search engines (TechCrunch). This will have enormous implications for brands as we move into 2023, particularly if you exist within the B2C space. It's no longer enough to show up in text search; you must show up where younger generations actively search for your brand, and that's on social media.
You might not have an active presence on platforms like TikTok, but a quick search of the channel will likely show you others already talk about your brand there. Don't you want to own that narrative? Create content that answers commonly searched questions. Offer BTS brand moments that show your personality and authenticity. Jump in on conversations! The lesson here is user habits will continuously evolve on social, and your brand needs to be ready to evolve with them.
Check out our Social Discovery Survival Guide to learn more.
Personalization
Another trend that continues to grow is personalization. From lookalike Snap avatars to highly tailored FYPs on TikTok, users expect their social media experiences to be tailored to their interests. And though you can't cater each piece of organic content to each individual follower, there are steps you can take to make your social efforts feel more customized.
This is where social listening comes in. You should have conversations happening about your brand and culture, jumping in where appropriate. If someone posts about an upcoming trip to your hotel, reply with some must-see sights in your city. Did someone receive a faulty product? Offer an apology and work with your customer service team to quickly send a replacement, then follow up with the new shipment's tracking information. Come across some incredible UGC? Share it!
On the paid side, your campaigns should be highly targeted. If you've A/B tested through the years (and we hope you have been), then you should know exactly which messages and assets resonate best with each audience segment so you can continue to lean into this in 2023.
Yes, monitoring and offering personalized solutions is a full-time responsibility that requires a ton of time and attention, but that's where having an agency partner comes in handy.
Trend Jacking
Beyond showcasing tailored feeds, one of TikTok's greatest strengths is its ability to launch trends into the stratosphere. The brands that see the most success on the platform hitch a ride on those trends all the way to virality. Now, we will never guarantee your content will go viral (it's rare), or even suggest all trends are appropriate for your brand to take part in, but we do recommend having a plan in place to jump on appropriate moments as they arise across associated platforms.
One way to accomplish this is to use our TapIN offering. It is a creative lab of 40 passionate trend seekers who uncover and communicate insights in real time, agency-wide and directly with brands we support. The output of TapIN is a weekly trend report all clients receive. It includes trending opportunities to jump on and a snapshot of what the competition is up to at any given time and has resulted in some major earned media moments for our clients.
And remember, when engaging in these trends, your content does not need to be overly polished! Consumers want to see brands posting organic responses and content in authentic ways.
Interactive Content
In 2022, organic engagement continued to drastically decline for brands (Rival IQ) across platforms, including Instagram, Facebook and Twitter. We already know implementing a paid strategy alongside organic efforts can help combat dwindling metrics, but there are also ways to help boost organic numbers.
If your social media team has been a broken record talking to you about video-first content, you're not alone. Video should be top of mind when thinking about asset creation. Yes, it's a bigger investment, but it will help you "play nice" with social media algorithms and prepare you for the future of social, which is likely to bring us even more video and AI (don't forget about the Metaverse). You should also take advantage of platform offerings, such as Twitter polls, Instagram QAs and TikTok filters, to give your audience opportunities to truly interact and engage with your brand.
We're excited to see where 2023 leads us in the ever-changing world of social media. If you feel overwhelmed and don't know where to begin, our team is here to help. Contact [email protected] to learn how our social media team can help.
Cassie Croissant is Vice President of Integrated Marketing at Allison+Partners in New York City, with a specialty focus in social media